MILLER DISPERSION BLADES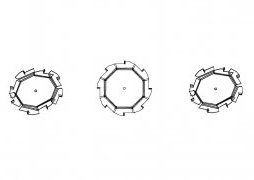 Standard size range;
| | |
| --- | --- |
| 2.75" (70mm) Dia. | 13.5" (340mm) |
| 3.5"   (90mm) | 15"    (380mm) |
| 4.5"   (110mm) | 16.5" (420mm) |
| 6"      (150mm) | 18"    (450mm) |
| 7.5"   (190mm) | 20"    (505mm) |
| 10"    (250mm) | 22"   (560mm) |
| 12"    (305mm) | 26"   (650mm) |
|   | 33"   (860mm) |
Other sizes are available on request.
All blades 6" & above are manufactured from 304 3mm stainless steel & the smaller sizes are 1.5 – 2mm.
316 stainless steel for food or pharmaceuticals is available on request.
Miller blades have been at the forefront of high performance disperpersion blades now for many years giving both an excellent quality of dispersion & in most circumstances, significantly reducing batch times.
Operating parameters are;
Super/real cavitation begins at a peripheral speed of 4,500ft/min. & this would be considered to be the minimum requirement to achieve a good dispersion stage. However, we have found that most will run at approx. 6,500ft/min. without to many problems & obviously giving a better performance. In fact, we have had them running at around the 8,000ft/min. however, for most general manufacturing facilities, this will exceed limitations.
 Due to the almost infinite variable parameters with fluid dynamics etc. we suggest your particular scenario is discussed with Pat Mulqueeney.